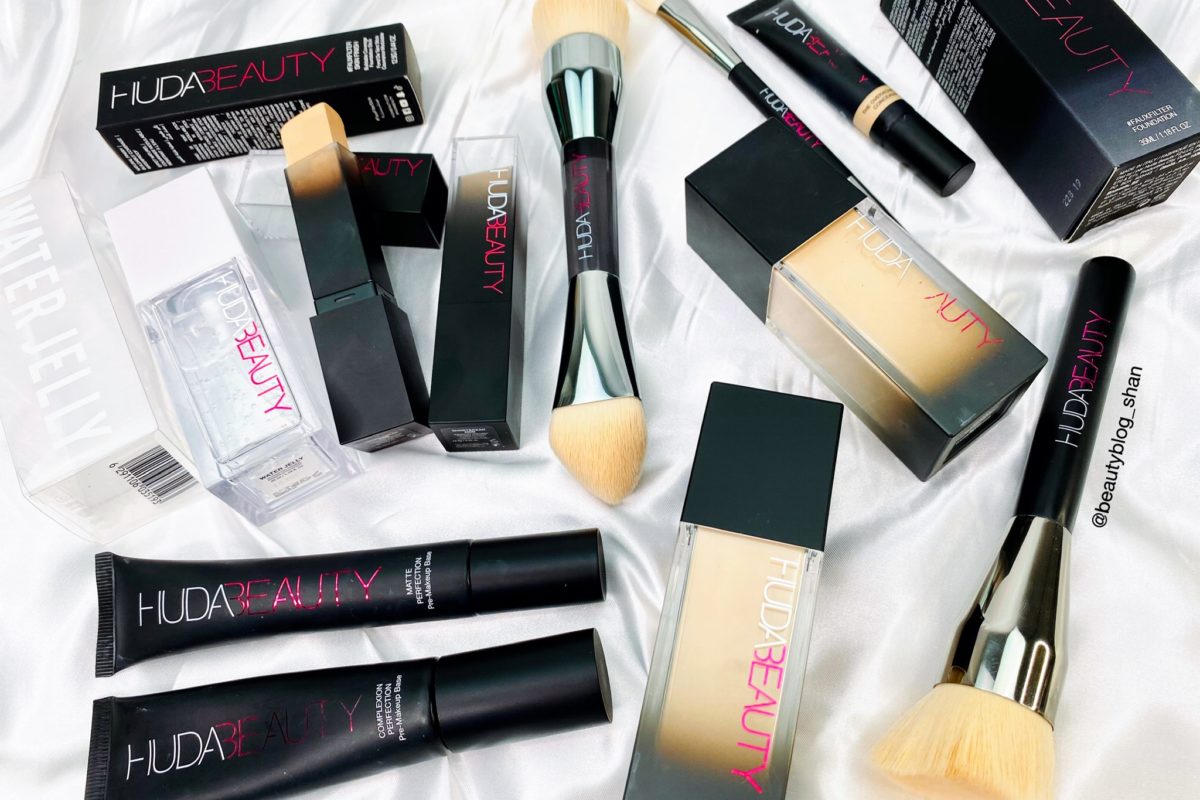 Huda Beauty
Faux Filter Skin Finish Stick Foundation
A delve into the newest complexion products launched by Huda Beauty.
How many of you reading this post will can admit that complexion products are the one area of the makeup world that are the most complex and therefore can be the most frustrating? If your answer is 'yes', just know you're not alone! Ignoring skincare (this is another minefield!), complexion for me is the most important part of my makeup routine to get right. If you don't have a solid, cohesive base before adding other products on top, it really is a recipe for disaster.
Once I've completed my skin care routine, depending on how complex an eye look I'm going for, most of the time I'll genuinely apply my base first. I'm a primer kind of girl, I find this to be an essential step in my routine and that it makes all the difference in the way my makeup sits on my skin. I'm a HUGE fan of the Huda Beauty original Faux Filter liquid foundation and her two primers and it's been 2 years since it launched! Unfortunately, I can't wear the liquid faux filter foundation every day, it's just too full coverage but an absolute MUST WEAR for special occasions! That being said, as soon as I heard she was coming out with a new stick foundation, I was SO ready and just knew I'd love it! Hello new every day foundation? Read on to find out what I thought!
The New Huda Beauty complexion launches! ♥
The products
Let's just delve into the products a little more first before I give you my review, as there'll be a few key bits of information you guys will probably want to know. This launch brought us 3 new products from Huda Beauty: a foundation stick, a water jelly hydrating primer and a new build & buff foundation brush.
The motive behind this launch was Huda's own complexion journey. If you're familiar with Huda's new skincare brand 'Wishful', you'll know she's accredited her journey to feeling more comfortable in her own skin to the Wishful products she's launched so far, and wanted to echo this transition in her makeup complexion products.
2 years ago Huda Beauty launched the original liquid Faux Filter Foundation, literally the most FULL COVERAGE foundation I have ever used. As Huda has delved into the world of skincare and found products that have improved the condition of her skin, she wanted to create a foundation that was more natural and buildable, taking into account feedback from her customers and fans.
Below is a detailed overview of each of the three products, giving you everything you need to know!
#FauxFilter Skin Finish Buildable Coverage Foundation Stick (12.5g)
A new creamy formula in the form of a stick foundation, this is a lighter, more natural version of the original Faux Filter liquid foundation, promising to the same properties you know and love but in a new buildable 'skin finish' formula.
We're promised a creamy formula that blends seamlessly to create natural yet radiant, filter effect that conceals and visibly reduces pores. It's non-comedogenic (won't clog your pores), water proof, fragrance free (this was a huge issue for some with the original foundation!), sweat proof and long wearing (for up to 10 hours). Blend using a brush, sponge or even your fingers, the product doesn't need to be set with powder!
9 brand new shades take the total shade range to an impressive 39 shades in total, with 8 shade families (light, light medium, medium, medium tan, deep tan & rich) and 4 undertones (golden, beige, neutral & red), Huda and her team really have tried to cater to everyone.
Price: £32 Shade: Shortbread 200B
My review: This is hands down the BEST new foundation I've tried in a long time. I'm obsessed with it after wearing it consecutively for a few days back in the office aka the ultimate wear test. It's very rare to find a foundation that gives you such a varying degree of flexibility when it comes to coverage. You can honestly tailor this to as much or as little as you like and it honestly looks utterly perfect on the skin. That's before I tell you about the wear of it! I've honestly not been as impressed with a foundation since I fell in love with the Fenty Beauty Pro Filtr foundation.
After wearing it for 10 hours straight, it literally still looked flawless. No cracking, no oiliness, no degree of fading, transfer or dryness. As good as when I put it on at 6.30am that morning! Shortbread is still a perfect match for me, the same as the OG liquid version. I loveee the packaging too, very simplistic but completely on brand, and fluent with the original liquid packaging. It's light weight, compact, easy to unwind/wind, and the formula glided on with no drag. The product is extremely creamy and therefore easy to buff and blend with either a brush or sponge blender, I tried both!
Top Tip: apply a few strokes to your face then add a few spritz of the Huda Beauty Glow Coco mist spray before buffing out for additional glow, hydration and dewiness! Thank me later!
Water Jelly Hydrating Primer (35ml)
Originally intended to be part of the Wishful lineup as an Essence, Huda's team adapted the formula once they realised they had the recipe for a perfect new hydrating primer. Vegan, non-comedogenic, fragrance free and dermatologist tested, this primer can be paired with both Faux Filter foundations from Huda Beauty.
What's so special about 'water jelly'? The concept behind this primer is ultimate hydration, it's solid-water matrix structure providing instant hydration whilst creating a perfect texture for makeup to grip to in just 60 seconds. The primer smoothes the skin whilst quenching it with a surge of moisture, it's unique jelly like texture melts into the skin, keeping your skin flawless under makeup all day long.
Price: £29
My review: I was extremely excited to try this primer and it didn't disappoint! The texture was tacky, but not too tacky, and unlike any other primer I own. It's extremely hydrating, my skin quickly absorbed it in under 45 seconds and instantly revitalised the appearance of skin, adding suppleness even to my dry patches. The packaging lightweight and almost a replica of the liquid foundation bottle, plastic & square, but with a white lid rather than black.
Build and Buff Foundation Brush
I've spoken to you guys enough times now about brushes from Huda Beauty and how underrated I think they are. This still holds true, I honestly don't hear enough about Huda's brushes! The bristles are synthetic and soft, they buff product seamlessly, blending everything beautifully. They're luxurious to hold, the handles having evolved from a solid matte black to an opaque black tint acrylic handle with chrome accents.
This isn't the first double ended brush from Huda, she's given us more double ended than single ended brushes actually! On the 'Build' end there is a dense pyramid-shaped brush, shaped perfectly to get into those trickier areas around the eyes and nose and build coverage to your preference. The 'Buff' end is a flat, circular buffer brush with rounded edges, perfect for quickly buffing large surface areas for a soft-focus natural skin finish. If you're a fan of the Morphe 439 you'll love this brush, it's like the luxurious big sister!
Price: £29 each
My review: This brush is a beautiful addition to the Huda Beauty brush range, and I'm now wondering how long it will be before we see a complete brush vault from Huda, maybe once she releases the last few products missing from her range? We're still yet to see a pressed powder, powder bronzer and blush, cream bronzer and blush to name a few. The pyramid 'Build' end of the brush is beautiful, extremely compact and really does make the tighter areas easier to apply product to! I also adore the 'Buff' end, it's typical of my favourite style brush for applying foundation as it makes it extremely quick to spread the product and blend seamlessly.
Summary
Okay so to summarise, this is one of the best foundations I've used in a long time. I don't own many stick foundations, and the only two I've ever favoured are the Makeup Revolution Fast Base Stick Foundation, and the Hourglass Vanish Stick Foundation.
In my opinion, this is hands down better than both which surprises me to say as I've tried a lot! The Hourglass Vanish Stick Foundation was probably the best stick foundation on the market – but at £45 for 7.2g product, it's an expensive foundation to love! Huda's has nearly double the amount of product for £32 and has come in above the Hourglass one!
The Primer is unlike any other primer I own, it's soothing and smoothing on the skin, ultra hydrating and keeps the foundation stick in place all day. I loveeeeee the new foundation brush, I've seen the likes of Sigma come out with a Pyramid shaped brush but didn't own any until purchasing this one from Huda! The primer and brush aren't necessary, if you have other tools and primers and don't have the budget to get everything, get the foundation! Trust me, you won't regret it! Definitely something I'd suggest adding to your Black Friday/Christmas Wish List!
foundation stick huda beauty huda beauty faux filter huda beauty foundation stick skin finish
Reader Interactions