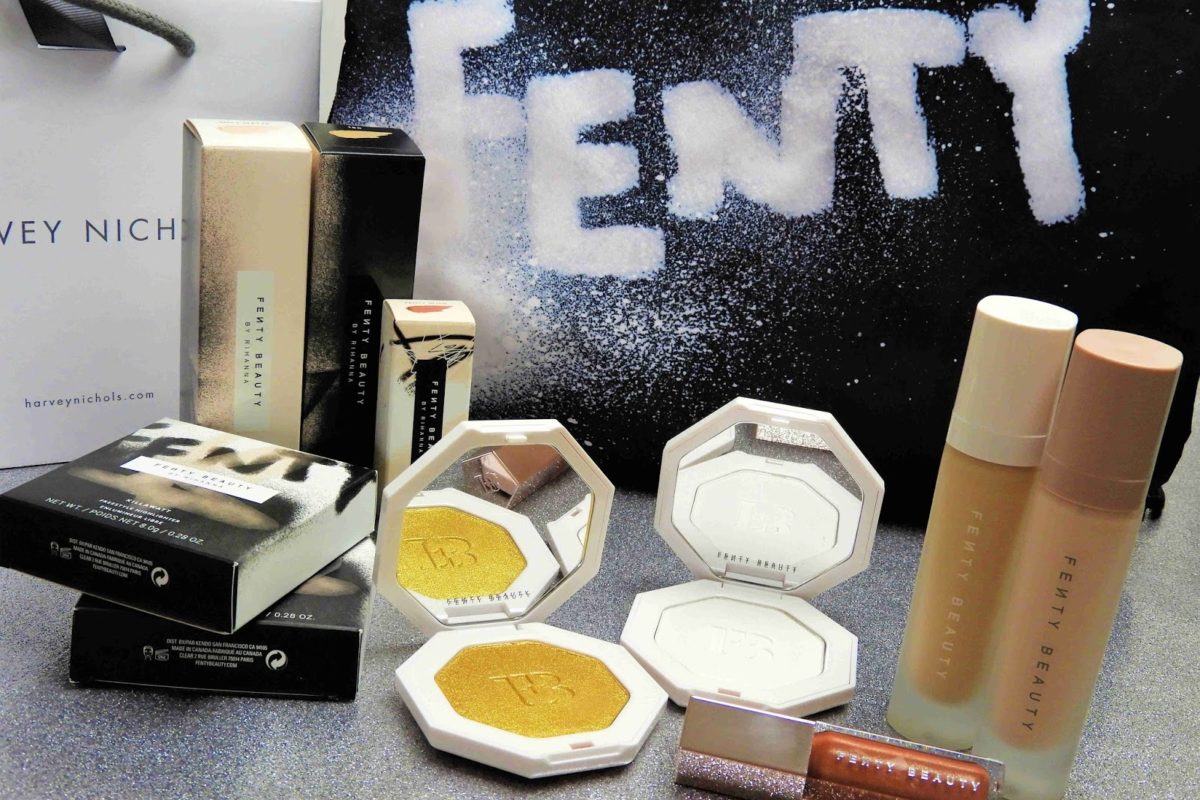 So unless you've been hiding under a rock, I'm sure by now you will have seen that the 8th September 2017 was a massive day for the beauty world. Global Superstar, Fashion and Beauty icon Rihanna finally debuted her long awaited makeup collection. Fenty Beauty by Rihanna – a brand parented by the Kendo Beauty Group, sitting alongside the likes of Marc Jacobs and Kat Von D, we knew this launch would be something special. It was also stipulated that there would be a degree of luxury to this brand however none of us anticipated the level of impact this launch would have on the Beauty World… Rihanna had challenged Kendo to create a makeup line inclusive to every skin tone, but to also launch the 91 SKU products strong line simultaneously around the world at the same time. Fenty Beauty launched across the globe in 17 countries on the 8th September, exclusively available at FentyBeauty.com, Sephora and Harvey Nichols.
Fenty Beauty – First Impressions ♥
Just by looking at this collection, you can really tell how much thought and time Rihanna has put into this. It's no wonder that it was a two year project, 91 SKU code products is a fantastic effort, I was literally gob smacked at the variety and originality of her first release choices. It's clear how strong her intentions were that this makeup line really would be 'inclusive'. To launch a new brand and show off forty, yes 40 shades of foundation to the world is something the makeup industry has never seen before. Most brands generally go for between 10-25 shades if you're lucky, but RiRi went all out!
I know most of you will be most interested in what products did she launch, how do they perform and the price point. As this was a mid month launch, I was only able to purchase a few items due to budget limitations *sigh* but what I did buy was enough to give me a decent insight into the brand and to determine the quality of the products.
s t u n n i n g ♥
I have to admit, I was a little apprehensive during the build up leading up to this launch. Nothing was published anywhere, no sneak peaks, no pre-launch reviews. Her personal and branded Instagram accounts were very evasive, the suspense factor was there trust me! The fact that she was going straight in and launching exclusively at Sephora and Harvey Nichols had me nervous for my bank balance. As soon as you mention Harvey Nichols, for us UK shoppers it's up there with Harrods and Selfridges. Luxury department stores selling top designer brands with hefty price tags.
Turns out, I had nothing to worry about! Prices for the items I bought shown above are:
Killawatt Freestyle Highlighter in 'Trophy Wife' – £26.00

Killawatt Freestyle Highlighter in 'Metal Moon' – £26.00

Gloss Bomb Universal Lip Luminizer – £16.00

Pro Filt'r Instant Retouch Primer – £24.00

Pro Filt'r Soft Matte Longwear Foundation in shade '150' – £26.00
This is very similar to MAC pricing so I was extremely pleased as I'd had visions of the foundation pushing into the £30 bracket, and the lip gloss nearing the £20 mark!
A few things to note about the brand:
Fenty Beauty is a cruelty free brand (stated on their websiteFAQ's)
THe line is not Vegan as some products use beeswax and carmine, however the following products are considered vegan:

Pro filt'r soft matte longwear foundation

Gloss Bomb universal lip luminizer

Match Stix Matte Skinsticks (doesn't include the shimmer stix)

Invisimatte blotting poweder

All brushes and tools

Fenty Beauty is paraben and phthalate free
Packaging Goals ♥
So, moving on to the review of what I bought, let's start with the packaging. On Friday 8th September I bought the two highlighters and the lip gloss online simply because I'm impatient and couldn't wait. Saturday morning I then popped into town to Harvey Nichols to pick up my order. This led to me stopping by the Fenty Beauty counter in store, staring for a minute or two and the sheer quantity of products on display and wandering over to get a colour match. Sure enough once I was matched to 150 – a light neutral shade, I had to buy the foundation and primer. They also gifted me with this gorgeous Fenty draw string bag which I got FAR too excited about. I'll never use it but it made my photos look amazing!
The boxes are sleek and modern, very urban with the graffiti theme feel. Very contrasting to the actual products in side which are a lot more classy. They seemed so fitting! I know a lot of people have questioned the packaging, even slated it for being too neutral. I guess basing your expectations on Rihanna's image, you probably might've expected vibrant colour schemes with elegant geometrics featured. To be honest, I don't know what I was expecting but I had an inclination that she might've toned it down and gone for something more sophisticated with a rough edge. I have no doubt that as the brand grows and new collections are launched, the packaging design will grow and develop but I absolutely adore the brand, the logo, the colour schemes, everything about it. The items themselves look worthy of their high end status. I love the simplistic take on the 2D shapes featuring in this launch, the pentagon lip gloss, the hexagon match stix and the octagon highlighters. It's unique, refreshing and captivating. The beauty industry has become some a competitive market with brands launching new products constantly, she definitely found a way to make her products instantly recognisable and stand out.
I'll quickly run through the products I bought and how they wear as I've been testing them out all week!
Pro Filt'r Soft Matte Longwear Foundation in shade '150' & Pro Filt'r Instant Retouch Primer ♥
I literally don't know how I'm going to explain these two products to you without it seeming like I'm obsessed (which I am). I love that both of these products come with a pump, pumps make life so much easier for those of us who are clumsy. I always end up with a drop of foundation on the floor or my lap if I'm using a more runny dropper foundation! The products both come in sleek frosted glass bottles, heavy and extremely luxurious to the touch. I didn't think it was possible to love a bottle design so much but I genuinely don't own another bottled foundation like this!

First up is the primer. Again, I've seen murmurs about a distinct likeness to the KKW packaging but I don't own anything from the brand to compare. Realistically, if RiRi has been working on this for over two years, chances are she already had her colour schemes and packaging picked out long before KKW released anything so…
I generally go for two pumps of the primer which is enough to cover the face. The primer feels more like a moisturiser, smooth, not too much of that silicone feel, hydrating yet blurring. It's quite strange as it's somewhere between the consistency of my YSL touche eclait blurring primer and my Marc Jacobs coconut glow primer but I like it! It does seem to add a slight touch up to certain areas, definitely an element of blurring the skin. Pores are still visible but not as defined and my skin seems hydrated and smooth.
Pumps are my fave ♥
Next up is the foundation. I guess the biggest discussions I've seen on social media surrounding this product are whether the foundation oxidises and what coverage is it? After using this foundation for a week, I'm actually obsessed and I will be buying it in shade 190 which is the next neutral toned shade, just slightly darker for when I tan. In my opinion, one layer of this foundation gives you a solid MEDIUM coverage effect. Scars, blotches, spots and dark circles are still slightly visible however another layer takes this foundation to a solid full coverage foundation.
It is actually advertised by Fenty Beauty as a 'medium to full coverage foundation'. The foundation is also oil-free, so perfect for anyone with oily skin. Points advertised are a soft matte finish, shine free, long wearing, undetectable and pore diffusing. I agree with every single one. I've worn this foundation every day this week to work. It's lasted a solid 12 hours with no touch ups needed. I generally have normal skin that's prone to being slightly dry in some area if I don't moisturise properly. The primer definitely has done it's work to keep any dry patches at bay. I do get a slightly oily T-Zone which tends to break through after about 8 hours but I'm intrigued to see if the 'Invisimatte Blotting Powder' helps! The foundation once applied itself is absolutely flawless, perfectly matte and it genuinely does look like an Instagram filter on your face.

To apply the foundation, I use two pumps on the back of my hand and dot on my face. The foundation does 'dry down' to the matte finish so you'll want to work quickly. I generally buff mine into the skin with my Morphe Y6 brush but a damp beauty blender also works well. Her foundation brush is on my list as everyone has been raving about it and it looks gorgeous but for now I'll have to manage! Two pumps covers my entire face and gives a solid medium coverage. If I need to, I take a further pump and dot foundation over areas that need touching up and gently buff this in. As to whether the foundation oxidises, I guess you'll have to use your own opinion. Fenty Beauty openly discussed this on their Insta story, with one of their MUA's explaining that it actually doesn't 'oxidise', it simply sets because it is a matte finish foundation. If you can't get into a store to colour match, I'd recommend going one shade lighter than you think you are just in case because it does go slightly darker when it dries down. Once set, my skin felt soft to the touch, definitely not cakey or tacky. I absolutely love it!
Killawatt Highlighters in Metal Moon (left) & Trophy Wife (right) ♥
Moving on to the highlighters… I'm sure by now you've seen Trophy Wife at least. A vibrant yellow gold strobing effect powder that's so pigmented it could be an eye shadow, I can see why it's been such a hit!
Swatches ♥
As you can probably tell from the swatches pictured above, Trophy Wife literally is vibrant and pigmented. I've seen a few reviews referring to it being perfectly suited for darker skin tones only but I disagree. Granted I can't swipe my brush through it and apply it to my face but it's definitely wearable! I've personally taken to using a generous helping of Metal Moon on a brush spritzed with MAC Fix + and applying to the high points of my cheek, above my brow arches, cupid's bow, nose tip and bridge of my nose. I've then lightly pressed my brush into Trophy Wife once and gone over those same areas and the effect is stunning. Metal Moon is perfect for those of you looking for a subtle glow, as it's the perfect soft gold sheen. I've got my eye on a couple of the Kilawatt duo highlighters, Lightning Dust & Fire Crystal, and Mean Money & Hustla Baby will be the next additions along with the Cheek Hugging Highlight Brush which looks so innovative and I don't own a brush similar!
Gloss Bomb ♥
So last but by no means least from we've got the Gloss Bomb Universal Lip Luminizer. The packaging on this product is stunning, I love how they've gone with a glossy transparent pentagon shaped tube, a silver/ rose chrome lid embossed with FB and the logo in a metallic silver. Paired with my silver glitter background, this photo came out looking amazing if I do say so myself! The gloss applicator is huge, like Tarte Shape Tape concealer huge which makes it really easy and quick to apply. The formulae is tinted, sparkly and not sticky, everything you want a gloss to be. It also smells AMAZING!

I'm sure you can tell my verdict on Fenty Beauty so far but I'll summarise anyway. RiRi has done an amazing job I literally am in awe of her. The foundation paired with the primer have fast become a firm favourite, I literally can't put them down. The highlighters are beautiful and I need more in my life, and the lip gloss is stunning. I am officially obsessed and I need more from this collection in my life ASAP.
Rating:
Design : ♥♥♥♥♡
Functionality : ♥♥♥♥
User Friendly: ♥♥♥♥
Value for Money: ♥♥♥♥
Packaging: ♥♥♥
Overall rating: ♥♥♥♥♡
max = ♥♥♥♥♥ ♥=1 ♡=½
I hope this has helped those of you who may be on the fence about buying anything from this brand. If you have any questions about any of these products please leave a comment or contact me via the Contact Form.
Reader Interactions