OLAPLEX
Okay, so I can't even believe I'm writing this but Olaplex, yes OLAPLEX kindly sent me a few of their products to review! Endorsed by celebrities such as Drew Barrymore, Rita Ora and the Kardashians, OLAPLEX is best known for being formulated to protect hair from chemical damage. A household name in most salons and a Kim Kardashian must-have, I was keen to see exactly what all the fuss was about!
Read below for a full review of the products they generously gifted me, in addition to a couple of their products I already owned thanks to my beaut of a hairdresser IG: @__beckiwiththegoodhair__ introducing me.
An introduction to Olaplex
So who are Olaplex and what's so amazing about their products? Olaplex are quite a new brand for me but at the same time, I'm not a massive hair advocate, or at least I wasn't until I discovered OLAPLEX! Now, five new products have become vital parts of my hair care routine! Having launched in 2014, OLAPLEX quickly changed the game for many hair care professionals, allowing them to push the boundaries of chemical hair treatments and achieve results that wouldn't be so easily achievable otherwise with their patented technology that repairs the bonds in damaged hair.
Before I go into any finite details and what these products can do for your hair, please note I'll explain the basics of the technology but if you want a more in depth explanation of the scientific magic, head on over to OLAPLEX'S website. Below I'll give you a simplified summary based on basic understanding for those of you who want to know.
What is it? What does it do?
Okay, so here's my attempt at the technical bit. Most of us know our hair is made up of proteins (Keratin) and is broken down into three layers. Maybe you weren't aware (I wasn't!) that the Keratin proteins form long chains (polypeptide bonds) that line up in a structured chain held together by hydrogren, salt and most importantly, disulfide bonds.
Our hair is formed containing millions of disulfide bonds and these bonds play a vital part in the formation, flexibility and resistance of our hair's structure. When healthy, your hair will look glossy and healthy. Damaged hair (dry, brittle, thinning, frizzy, split ends) is caused by broken disulfide bonds.
Unfortunately, hair can be damaged but a number of factors including heat damage (hair dryer, straighteners, curlers etc.), mechanical damage (brushing and any other friction), environmental factors (pollution, UV damage, even changing weather conditions) and chemical damage (colour, perms etc.). These factors damage your hair by reacting with the disulfide bonds and breaking them, resulting in protein loss. This will usually affect multiple disulfide bonds throughout the hair at one time resulting in unhealthy, lacklustre hair.
When disulfide bonds are damaged, they break apart and create single sulfur hydrogen bonds which are prone to two potential reactions. The first possible reaction is the single sulfur hydrogen component pairs with one oxygen molecule resulting in no further damage. The second reaction occurs when the component pairs with three oxygen molecules (SO3), developing Cysteic Acid that eats the protein out of the hair, harming it.
OLAPLEX works by quickly pairing the single sulfur hyrogen bonds quicker than the three oxygen molecules, permanently repairing them meaning less damaged hair!! The entire OLAPLEX line contains the same active ingredient (bis-aminopropyl diglycol dimaleate) which repairs broken bonds in your hair and essentially provides a reset button for your hair, perfect for those of us who have highlighted or bleached our hair for years! You'll also be pleased to know, the entire range is vegan, cruelty free, paraben and gluten free. Read on for the full individual product breakdown including tips, directions for use and my thoughts on each product!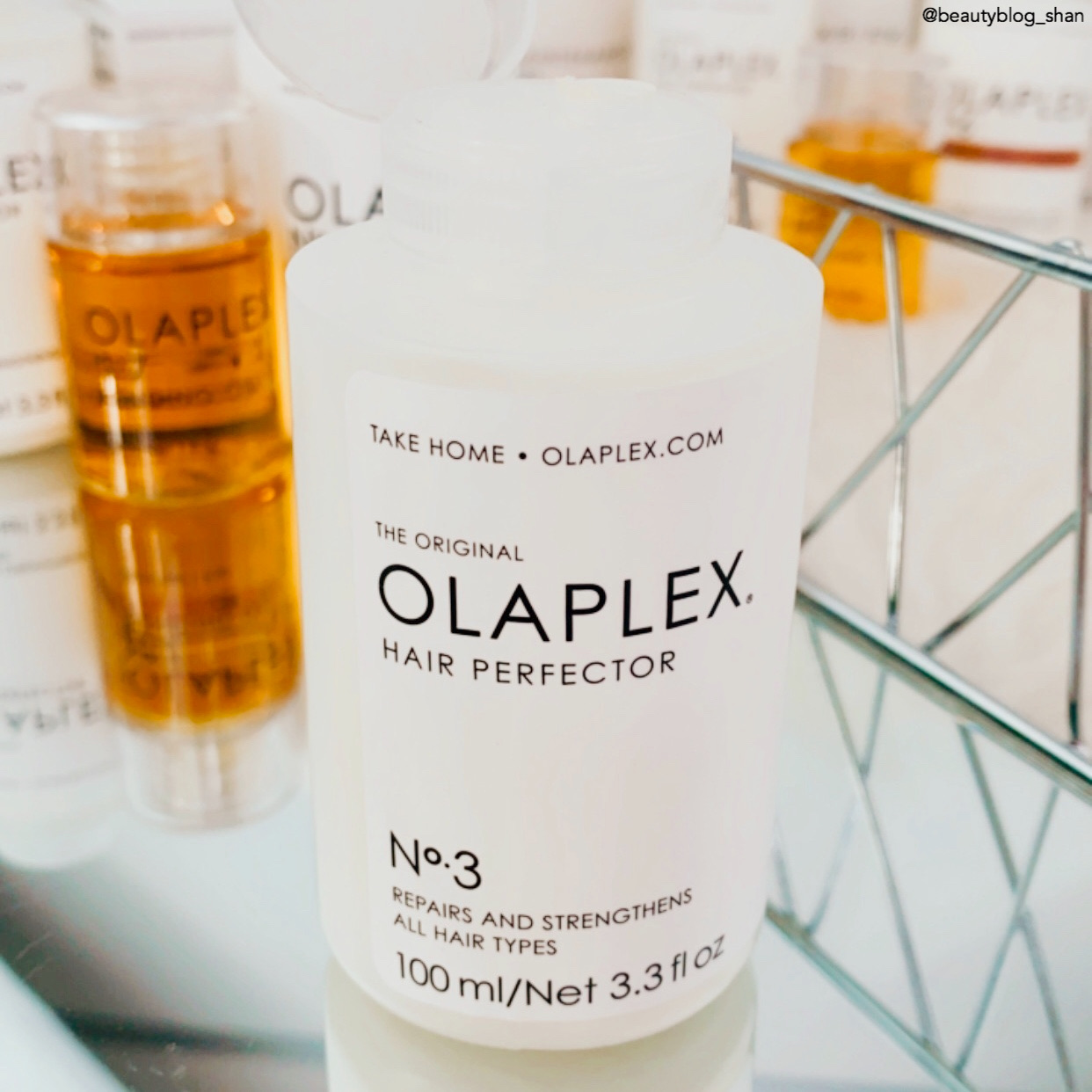 As I'm not a qualified hair professional this review features the products suitable for home-use from Olaplex's product range (No.3-No.7), however my hairdresser @_beckiwiththegoodhair_ uses Olaplex No.1 & 2 when dying my hair and swears by it!
Olaplex No. 1 Bond Multiplier rebuilds broken disulfide bonds and starts the process of repairing hair and preventing damage. It's a concentrated product intended for use by hair professionals, utilised as a salon stand alone treatment or mixed with lightener, colour or chemical services. Olaplex No.1 is a water solution containing the highest percentage of the active ingredient.
Olaplex No. 2 Bond Perfector is usually added after rinsing colour/bleach for 20-30 minutes or while shampooing lightener as it continues rebuilding and restoring any remaining broken bonds to give you that salon shine. Olaplex No.2 contains a smaller amount of the active ingredient than No.1 and is combined with a number of conditioning agents.
Salons may also offer this as a standalone treatment for those with no colour or bleach. No.1 can be diluted with water, sprayed on hair for five minutes, layered with No.2 , left on for 20 minutes, and then washed out, revitalising hair that hasn't been chemically damaged. Remember, there are so many potential factors that could harm your hair, Olaplex can provide revitalisation for all hair types.
OLAPLEX No.3 – Hair Perfector (100ml)
What an absolute bottle of magic this gem is! A miracle treatment for your hair, I've tried using this beauty in two different ways, as directed on the bottle as well as something different for days where I'm in a rush! The bottle instructions suggest applying to towel dried damp hair (pre shampoo & conditioner), combing through and leaving for a minimum of 10 minutes before rinsing and washing your hair as normal. As we're all currently in COVID-19 isolation, I've been WFH meaning I can enjoy the luxury of a little more time to get ready! I've done this twice now before my last two hair washes and honestly, I don't know why I didn't sooner. The results were incredible. Up until this point I'd been washing my hair with No.4 & No.5 and applying No.3 after towel drying my hair, before combing and leaving in whilst doing my makeup in the mornings. I'd then add No.6 & No.7 before briefly blow drying. Might I add that this method does also work and comes in handy when I'm in a rush as it still left my hair feeling smooth and glossy, but the 3-4-5 method, wow. I also noticed after using the 3-4-5 system that it took longer for the grease in my hair to creep in? Has anyone else noticed this? Note: you only need to use a 2 pence coin amount as the product will spread once brushed through your hair.
Olaplex No.3 contains the smallest amount of the active ingredient (in comparison to No.1 & No.2) and is combined with a variety of conditioning agents too, making it the perfect at-home hair treatment. The bottle states it is not a conditioning treatment and should not be used as a conditioner. The more time this treatment is left on for, the more effective it will be. I'm currently in the process of reducing the number of times I wash my hair as I was doing this daily (bad I know!). I'm now down to every 3-4 days with dry shampoo aiding me in between. Each time I wash my hair, I use No.3 before or after hair washing depending on how much time I have! The bottle suggests once a week but it really doesn't matter, the more the better I've found and your hair will thank you for it! No.3 is colour-safe, PH balanced, vegan friendly, cruelty free and made without parabens, sulfates, phosphates or gluten, and is suitable for all hair types.
Price: £26
OLAPLEX No.4 & No.5 (Bond Maintenance Shampoo & Bond Maintenance Conditioner – 250ml each)
Honestly, this duo have completely changed my attitude to my hair washing routine and I'm now hooked! I actually can't see myself ever going back to drugstore shampoo unless I run out and don't have back ups (thankfully I do for the time being, I stocked up while Cult Beauty had a 20% off haircare promotion running! I bought another full set of all five home use products literally the day after trying these!). Both products contain the magical active ingredient (Bis-Aminopropyl Diglycol Dimaleate) making them perfect for revitalising damaged hair. This pair combined will increase moisture levels, repair your hair and enhance natural shine and glossiness. The colour preserving formula helps aid the prevention of colour fading and oxidisation whilst maintaining healthy hair. Both are colour-safe, vegan friendly, cruelty free and made without parabens, sulfates, phosphates or gluten, and suitable for all hair types.
Olaplex No.4 bond maintenance shampoo removes a build up of excess products, oils and dirt while gently cleansing your hair. I've found you really don't need a lot of this product as a little goes a long way! No more than the size of a 1 pence piece in your palm will do as the shampoo works best when lathered between your hands before gently massaging the shampoo into your scalp/hair. I've found shampooing, rinsing and shampooing again before conditioning works best for me as I'm now leaving 3-4 days between each hair wash.
Let me tell you now guys, the Olaplex No.5 bond maintenance conditioner is absolutely beautiful! It honestly makes your hair so much more manageable and a lot easier to detangle (this is a real issue for me as my hair isn't the thickest and is prone to knotting!). The conditioner is more of a silky cream formula so lathering isn't really possible, but I find an amount the size of a 2 pence piece is enough. Whilst in the shower I apply two thirds of the conditioner to the ends of my hair before lightly coating the roots and brushing this through. I'll then try to leave the conditioner on for 5-10 minutes while washing the rest of my body, shaving my legs etc. before rinsing thoroughly.
Price: £26 each
OLAPLEX No.6 – Bond Smoother (100ml)
Okay so my hairdresser @__beckiwiththegoodhair__ repeatedly sung the praises of this product, using it every time after she dyes my hair without fail, and now I think I understand why! A revitalising styling crème, No.6 tackles the elimination of frizz whilst providing nourishment and hydration from root to tip of each strand. No.6 contains the patented active ingredient as well as Vitamin E and Coconut Oil (making it smell amazing!) and boasts the same hair-healing powers as the rest of the products, making it the perfect multi-beneficial treatment you can leave in your hair after every wash. It's also colour-safe, vegan friendly, cruelty free and made without parabens, sulfates, phosphates or gluten, and suitable for all hair types.
Olaplex No.6 Bond Smoother is the product I reach for every time after I get out of the shower, I actually can't imagine going back to life without it! Once I've towel dried my hair and brushed it, I apply a 10 pence piece amount of No.6 combined with No.7 to damp hair and where possible, leave my hair to dry naturally once I've brushed the product through my hair. Both No.6 and No.7 also advertise heat protection and the ability to speed up the blow drying time – probably the one thing I can't comment on as I tend not to blow dry my hair very often! One last thing – the tip detailed on bottle about applying the night before to give amazing hair the next day – YES! I usually tend to wash my hair in the mornings but occasionally if I do this the night before, the results are definitely noticeable!!
Price: £26
OLAPLEX No.7 – Bonding Oil (30ml)
Olaplex No. 7 like No.6 is another additional step to the 3-4-5 system but for me it's as essential as the other stages. After each hair wash I'll towel dry my hair before adding 4-5 drops to No.6, rubbing together between my hands before combing through my hair. Before Olaplex, I'd never used a styling crème before but have always loved applying oil to the ends of my hair and this highly-concentrated, weightless product was no exception.
No.7 can be used with No.6 or on it's own and applied to both damp and dry hair. It's important to note this is the only product in Olaplex's range that boasts additional heat protection properties of up to 230°C as well as UV protection, reduction of frizz and flyaways – similar to No.6. Most importantly as I know this puts a lot of people off of using oils, No.7 leaves no residue in your hair. Greasy hair is something I've been combating since I was a teenager so for me, this is something vital that I look for in any hair products I purchase! It's also colour-safe, vegan, paraben free, phthalate free, sulfate free and alcohol free.
Price: £26
How Olaplex has aided my hair journey over the last couple of years!
As I said at the beginning of my blog, I can't take any credit for my discovery and new love affair with OLAPLEX. That honour sits firmly with one of my beautiful best friends @__beckiwiththegoodhair__ who happens to also be my hairdresser! I know nothing really about hair and I'm one of the most indecisive people about, I can never make decisions on anything! Most people have their next hair style at the ready before they've even sat in the chair but not me. Fortunately for me, I'm lucky enough that one of my best friends happens to also be my hair dresser and knows me well enough to know what I like, but is also honest enough to suggest styles etc that will work best for me.
By the end of 2018 I was completely fed up with my hair and dreaded having to get it cut/dyed, hair maintenance for me was a chore. Luckily Beck had decided to pursue freelance hair dressing and taking on clients so it seemed like the perfect solution. Spend more time with one of my favourite people whilst getting hair my done, hopefully making it becoming less of a chore and more of an enjoyable experience that I could look forward to! Beck has been an advocate of OLAPLEX since the beginning, using No.1 & No.2 whilst colouring my hair (I've come a long way with my hair care but I'll always opt for a low maintenance balyage just in case!).
"The hair industry has dramatically changed over the past few years., in the same way the world has changed culturally. From the days of it being fashionable to be stick thin (I'm not here to shame anyone, just trying to demonstrate a point), to it now being more popular to eat better and be the shape that YOU are. As long as you are being healthy and putting the right things in you to make you glow, that's what's important. Both the hair industry overall general hair health have have changed in a similar way, largely due to the rise in education. and products on the market. Tips, tricks and useful Information are now easily accessible via the internet, social media and word of mouth. From a hair dressing perspective, It's refreshing to see that less people want a 'quick fix' to solve their hair problems. Instead, customers actually want to put the right products on their hair to maintain it's health and more importantly – they're willing to invest!

I love the full range of OLAPLEX, not just because of the sicence behind it and the wonders it does to your hair on the inside, but due the way that it makes my clients feel too. OLAPLEX No. 1 & No. 2 are key to my colour services due to the bond maintenance technology. Without getting all "sciency", trust me – it's magic in a bottle! OLAPLEX No. 3 is a god send for all clients to use at home for a regular top up of the hair goodness they receive during their hair appointments with me. Whether it's left on overnight, or just whilst they have a 20 minute bath, it makes all the difference to keeping their hair feeling fresh and strong. OLAPLEX No. 4, No. 5, No. 6 and No. 7 all give my clients what they've been dreaming of for a long time. Goddess hair maintenance!! I don't want to give my clients amazing hair for just one week, I want them to feel amazing every day and these steps give everyone that opportunity and remind them, 'hair is the crown you never take off'. All hair glows brighter when genuinely healthy, glossy and most importantly protected. That's what OLAPLEX gives to me and my clients which is why I recommend it to everyone!"
The beginning of my hair journey 2018-2019 ♥
You can see straight away in the 'before' photo from November 2018 above compared to what it looked like after my first appointment with Beck that my hair had received little care or attention for a while (guilty!). I had no hair care routine at all and at this point I was washing my hair every day due to greasiness so my hair was frizzy and full of split ends. Beck gave me a muted balyage during my first appointment as I wasn't feeling too adventurous but wanted something different from my natural brunette colouring. When I had my hair done again before my birthday in March 2019 you can definitely see a difference in the condition of it after another fresh balyage. Beck amped up the caramel tones in preparation for me to go lighter in July ready for Summer. The 'before' picture in July 2019 vs the 'before' photo in November 2018 really does say a lot in how far my hair came and show the magical combined efforts of Beck and Olaplex on my hair!
2019-2020 ♥
After July's honey tones, by November I wanted to move back to a more muted caramel vibe for the winter before starting the cycle again ready for the summer of 2020. In each 'before' picture hopefully you can observe the difference in the condition of my hair and certainly after dying it, these photos scream health, hydration and glossiness! I literally can't wait for Beck to get her hands on my hair once this COVID-19 lockdown nightmare is done. Thankfully, this time round Beck can rest assured I'm taking good care of my hair and following the 3-4-5-6-7 routine each time I wash my hair!
Summary
As you can probably tell from the photos and detailed review above, I had already had some insight into the wonders of OLAPLEX's products and purchased 3-4-5-6-7 prior to being gifted No.3, No.6 and No.7 by the fabulous team at OLAPLEX. That being said, receiving the additional supply has enabled me to fully and freely explore various methods of application and figure out what combinations of these products work best for me to achieve the healthiest and most noticeable results.
OLAPLEX products are made in the US but are available to purchase in a few stores throughout the UK including Cult Beauty, Look Fantastic, Sally's and Space NK.
Have you taken the plunge and tried OLAPLEX? Let me know what you thought of it!
Thanks for reading guys!
Reader Interactions