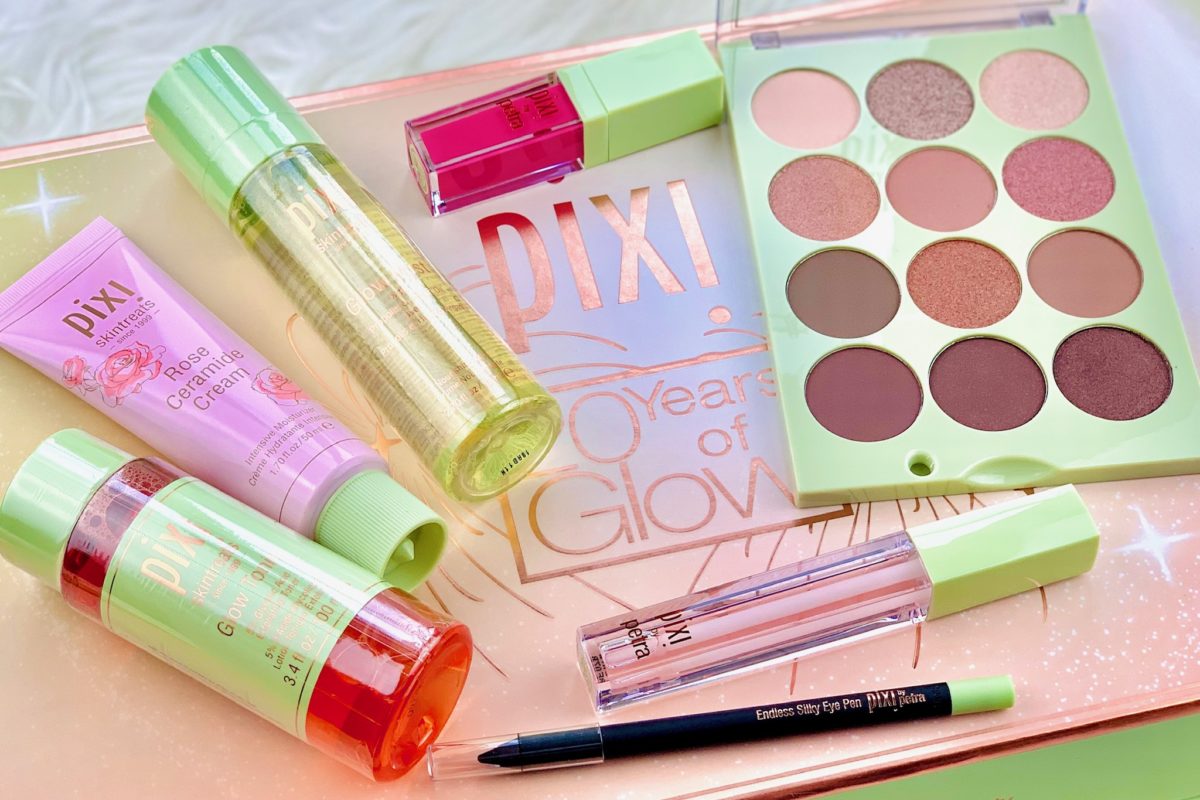 Pixi Beauty
20 Years of Glow
The first of a series, the next few posts will cover some of the stunning PR packages I've been lucky enough to receive over the last 12-18 months from Pixi Beauty, starting with the most recent xo
Rose Ceramide Cream – an intensive moisturiser
Glow Tonic – the iconic exfoliating toner
Glow Mist – nourishing facial mist
Eye Reflection Shadow Palette – matte & shimmer eyeshdow palette
Endless Silky Eye Pen – waterproof eye pencil
MatteLast Liquid Lip – liquid lip in 'pleasing pink'
Lip Lift Max – glossy lip plumper
#20YearsofGlow
A beloved cruelty free worldwide makeup and skincare brand, Pixi Beauty was founded by makeup artist and product creator Petra Strand. The first Pixi store launched in Soho, London in 1999. Petra's inspiration behind the brand came from her birthplace Stockholm, Sweden. Pixi's mission: to bring out the natural beauty in all women.
"Looking like you, only better…in no time – that's Pixi" – Petra Strand
At the end of December I arrived home to this stunning PR package from Pixi. It contained seven of their flagship items, Petra's top picks from the last 20 years.
Before I was sent my first PR package from Pixi Beauty, three of these seven items were already staples in my makeup collection, recurring purchases on my shopping list!
How many of these products are your favourites?
*this is a package containing items gifted to me by Pixi Beauty. This is not a paid sponsorship, all images and opinions are my own.
Rose Ceramide Cream (50ml)
An luxuriously rich facial cream infused with Rose Flower Oil and Ceramides (lipids that help skin retain moisture and form it's protective barrier). Abundant in antioxidant botanicals, daily use of this will help improve your skins elasticity and provide protection against environmental aggressors such as pollution. I personally love Pixi's Rose range as I find it soothing if I'm suffering with breakouts or redness. My skin is also more on the sensitive side so for me this was a welcome addition to my skincare routine. Apply daily after cleansing, toning and any serum or essence.
Price: £24
Glow Tonic (100ml)
Okay so in my opinion, this particular product doesn't even need an introduction given it's award winning status but just in case this is a new product for you, Pixi's Glow Tonic is an exfoliating and cleansing facial toner, and an impressive one at that. A unique, beloved formula, Glow Tonic is enriched with 5% Glycolic Acid that aid the cleansing and removal of impurities from your pores. Aloe Vera soothes and boosts hydration, while Red Ginseng (a herb widely used in Korean medicine) boasts a whole variety of properties that are beneficial to the skin. Use daily after cleansing (morning or evening). I usually add drops to a cotton pad and lightly wipe my face, jawline and neck (don't use on your eye area). Follow with moisturiser.
Price: 100ml £10, 250ml £18
Glow Mist (80ml)
Glow Mist was another one of the seven items that I already owned before being gifted this by Pixi. My skin is sensitive but combination, slightly more so on the dry side if I had to choose. I also notice this much more in the winter. I originally purchased this to help not only set my make up, but provide a more dewy finish to my makeup. Little did I know I would fall in love with it! A multi-purpose facial mist, this can also be used to revitalise your hair or prep skin before make up application, giving skin a smooth and glowing complexion. Containing 13 natural oils, I'd suggest using this sparingly if you are more on the oily side. Most notably Rose Flower Oil to hydrate and sooth, Lavendar Oil to calm skin and Propolis Extract provides antioxidant properties. Ensure to shake first before use, mist lightly over hair/face/neck (close your eyes!).
Price: £16
Eye Reflections Shadow Palette (Natural Beauty)
So I have to be honest, I wasn't sure what to expect when I first received a package a few months ago from Pixi containing makeup products, as I'd only tried their skin care. After playing around with the 'Natural Beauty' eyeshadow palette, I was pleasantly surprised by the performance of this palette. It's a complimentary cool tone palette, containing a mixture of matte and shimmer shades, 12 in total, 16.5 grams of product. The matte shades are soft, buttery, easy to blend and pigmented, while the shimmer shades are multi-dimensional and provide that perfect amount of sparkle to take your look from day to night. Even Pixi's eyeshadow formula contains beneficial ingredients, Vitamin E for nourishment and protection, Mica for luster and skin conditioning emollients.
Price: £24
Endless Silky Eye Pencil (BlackNoir)
The third item I'd already fallen in love with after purchasing before receiving this package, safe to say I was grateful to receive another one as I'd nearly ran out! Waterproof, smudge-proof, long wearing, glide on application and deeply rich in pigmentation. What more could you want in an eyeliner! These pencils are hypoallergenic, cruelty free, free from parabens, preservatives and mineral oils to keep your liner looking fresh all day. Similar to the eye palettes, the liner also contains Vitamin E and Mica. Word of warning, if you intend to smoke out your liner for a blown out look, do it swiftly as the liner sets fairly quickly and won't budge once set!
Price: £12
MatteLast Liquid Lip (Pleasing Pink)
Pigmented liquid lipsticks formulated with Vitamin E and Rosehip Oil to prevent dryness, a common side effect from quite a few matte liquid lipsticks, but not this one! As with any liquid lip, irrespective of price or brand I'd suggest using a nourishing lip scrub first before application for best results. The unique 'Pixi Petal' applicator allows accuracy to outline your lips precisely. These lipsticks are cruelty and paraben free, and extremely pigmented.
Price: £16
LipLift Max (Petal Ice)
Of all the products in this package, this was the product I was most curious to try and excited by it's results. Mint fresh flavouring compliments the cooling sensation and pluming prompted by the peptides. While reducing the appearance of fine lines and maximising the appearance of your lips naturally, this lip plumper also contains Jojoba Oil, Aloe Vera and Chamomile. You can wear this solo, as a base for another lip colour or as a lip topper to give a beautiful icy gloss finish.
Price: £12
Summary
Ignoring the fact that I was gifted these products, there isn't one out of the seven products that I have experienced issues with or didn't like. Given the fact that Glow Tonic, Glow Mist and the endless silky eyeliner pencil were firm favourites of mine, Pixi had already fast become abundant in my daily skincare routine.
Pixi are now available to purchase in multiple stores throughout the UK including Cult Beauty, Look Fantastic, Harvey Nichols, Marks & Spencer, Boots, House of Fraser, Next, ASOS, and many others! They're also due to launch on Feel Unique soon.
Thanks for reading guys!
Reader Interactions