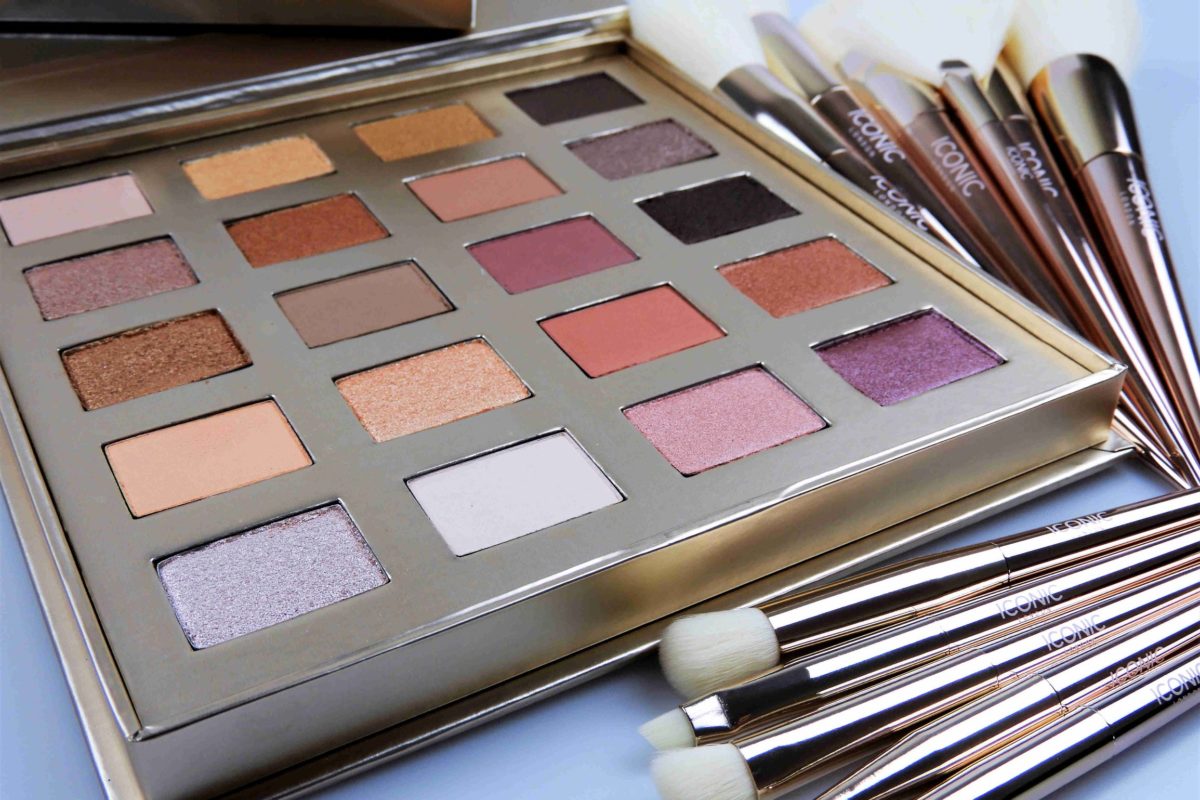 At first when I saw the subtle hints on instagram that Iconic London were releasing a new product, I thought for sure it would be a highlighting quad. After the success of their liquid illuminators, what better to follow suit than powder highlighters! Sadly it wasn't more blinding glow this time, but equally as exciting, the most perfect unique 20 pan eye palette pictured above.
New Limited Edition palette ♥
Miraculously, somehow I was sent the palette 2 days later with my other items I'd ordered. Iconic contacted me to let me know this was the PR release palette without the shade names and that mine would be coming as expected on the 18th August. As much as I would love to be, I'm not currently officially on Iconic's PR list so somewhere an error had occurred. Either way, I was over the moon to receive the palette early! I'm hopeful at some point in the near future Iconic London will consider adding me officially to their PR list… a girl can dream!
20 Shades of Perfection ♥
Anyway, first a few of the basic bits. The palette is retailing on Iconic London's Website at £45 for pre order, delivery expected around the 18th September. It consists of 20 shadow pans, each containing 1.5 grams of products. Eight mattes, and a mixture of twelve shimmers and pressed glitters. The website advertises the shadows as 'high quality, crease proof, buildable and blendable'. It's also 100% cruelty free and comes with a large pan mirror. The packaging is chic and pairs perfectly with Iconic's Ultimate Brush Set.
A Perfect Match ♥
What captured my attention about this palette after the first glance was how the colours correlate perfectly and how each cluster of four worked as a combo. For anyone wanting a quick tonal four colour smokey eye, this palette is the answer. This is definitely a palette I'd describe as user friendly and very suitable for beginners. You can see from the swatches below that the pigment in these shadows is unreal.

The matte shades are so soft and buttery, silky smooth to the touch! Best of all, there are sooo many transition shades! Nothing annoys me more than brands releasing eye palettes with no decent transition shades! For me, the shadows are definitely high quality, it's evident just from using them. They're also definitely buildable and blendable, and there is minimal fallout. Some shades do have kickback but if you're using a wet brush this will minimise the excess product. The mattes blend perfectly into the skin using a nice fluffy crease brush. With the shimmers and glitters I sprayed a flat brush with some Mac Cosmetics Fix + (you can use any setting spray or water!) and tried just using my finger. Both methods made the colours literally pop!
Swatch Party ♥
Icon, Marshmallow, Wonderland & Girl Boss were four of my favourite shadows from the palette, and were even more gorgeous when mixed with the orange/peach tones in the palette! This palette is a must have for any collector and will really add diversity to your palette collection.

This palette has been released and being marketed as Limited Edition so for those of you who are trying to decide whether to get this palette, I'd move quickly as I'm not sure how many more times they will be re stocking for pre-order! This palette is all you'll need to create a wide variety of both casual day and full glam evening looks.
It's so beautiful! ♥
Although I was fortunate to receive a PR prototype palette early this did not influence my review as I still purchased my own. I genuinely adore it!

Rating:
User Friendly: ♥♥♥♥
Value for Money: ♥♥♥♥
I look forward to hearing what you guys think of this palette! Any questions, please let me know in the comments below!

Thanks for reading guys!

Reader Interactions