Wishful Skin
Yo Glow Enzyme Scrub
My review of the first product launched by Huda Kattan's new Skin Care brand Wishful Skin
Okay so those of you who follow me on Instagram and Twitter know that I am a massive advocate of all things Huda Beaty, I absolutely adore the Kattan sisters and am besotted with their make up products. The brand is easily the largest part of my makeup collection and there's a reason for that. Disclaimer: I am not on their PR list *sob* (hopefully one day though!), none of the items in my collection have been gifted to me and I am not sponsored by the brand. I get a lot of DM's about this so thought I'd clarify. I simply fell in love with the brand a few years ago after my first purchase – the textured shadows palette – Rose Gold edition. Safe to say I never looked back, quickly going on purchase the majority of their liquid matte lipsticks, lashes, snapping up their 3D highlighters when they launched and purchasing every single launch after that.
If you've followed me from day one and read my blog you know that being invited to Huda's PR list is my number one goal and is my motivation to keep improving my photos, keep creating new content and developing this blog. Watching Huda Beauty grow as a brand and seeing the Kattan sisters smash every milestone and get the recognition they deserve only encourages me to keep chasing my dreams and doing what I love. I've gone slightly off tangent but my last Huda post was my review of the Mercury Retrograde palette so it's been a couple of months. The only good thing to come out of the current COVID-19 lockdown situation is WFH is allowing me a lot more time to play with my collection and work on my content!
Perfection ♥
Let's get back on track to Wishful Skin anyway! We'll start with the brand name, launch and packaging briefly! I'll try keep it short and sweet but I'm so excited about this product and brand, I have a lot to say!
The brand, the name & the launch
The first post from a new Instagram account 'Huda Beauty Skin' appeared on 12th January 2020. Huda was clear that the brand would be under it's own name, separate from Huda Beauty (like Kayali Fragrance) and would be revealed shortly after. The post contained an anecdotal note from Huda disclosing details of the struggles she'd faced from a young age with her skin. As she has done for the last 9 years on her blog, she's created Wishful with the intention of sharing her personal skincare journey with us, and how she has achieved skin she finally feels confident in. After years of experimenting during her time in the beauty world, she has created products containing only the best ingredients for our skin. I've inserted the image below (click photo to visit original post).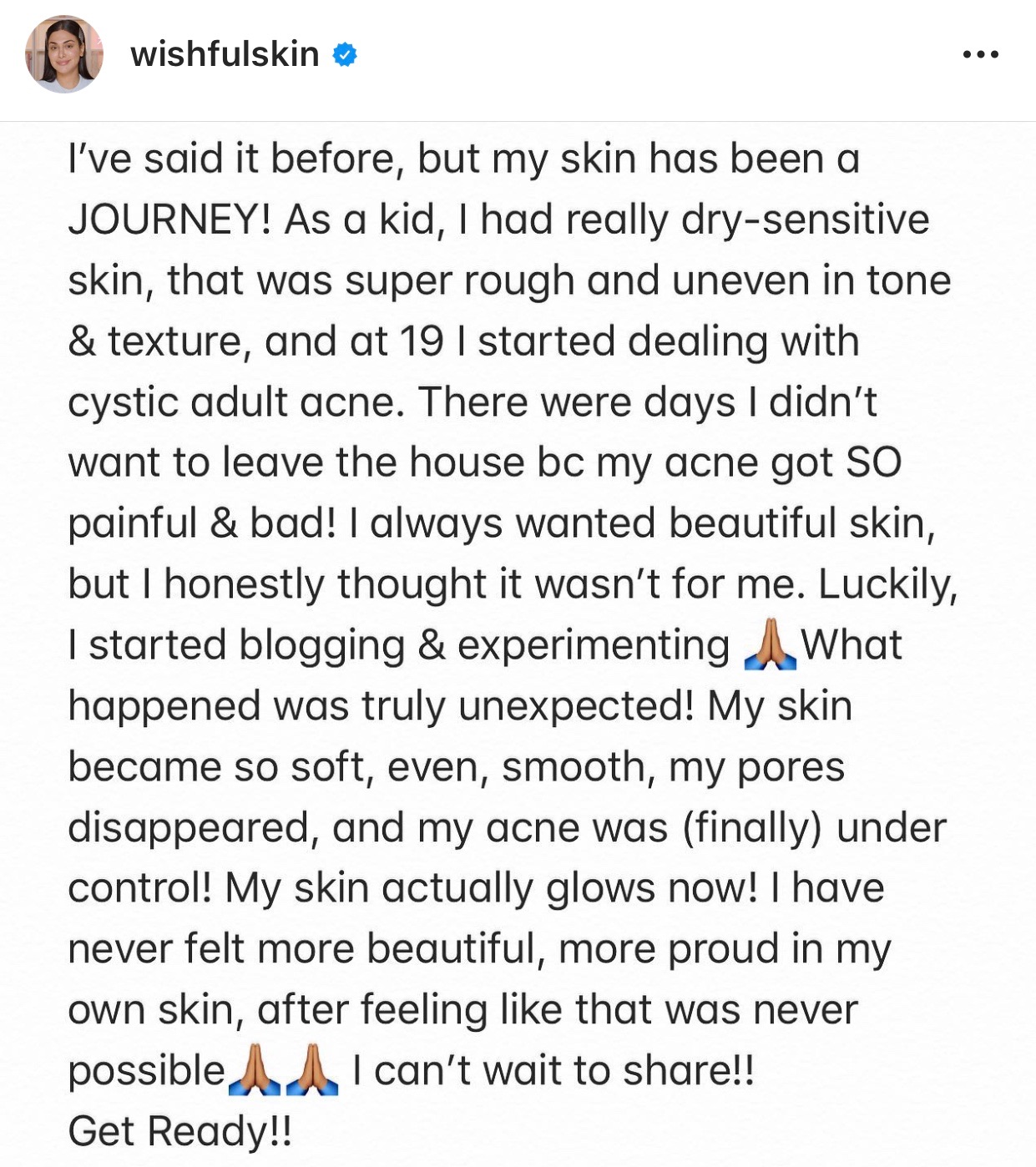 After a couple of teasers including a video showing her using Yo Glow on the 28th January, on February 4th we finally learned the brand name was going to be 'Wishful', and the first product 'Yo Glow'. The PR campaign for this brand and initial launch was so tastefully minimalistic, comprising of a fresh faced radiant Huda (she insisted on wearing no makeup for the shoot, no photo shopping or touch ups on any of the campaign material!). And let's not forget her holographic boob tube dress because I was LIVING for it.
We learnt that Wishful Skin is a cruelty free skin care line – something I'm sure most of you will agree is increasingly becoming a bigger and bigger factor when choosing new products/new brands, especially now that as consumer's we're more aware of the wider impact.
Huda refers to the philosophy of the brand being minimalist , clean, packed full of natural ingredients and results-focused, intending "to grant all your skin care wishes". It certainly has for me, let me tell you that!
My wish is for radiant skin to feel like ME even without makeup! I created this product after being in the beauty industry for so long….
HUDA KATTAN
In her Yo Glow launch video Huda talks about the focus of the brand, explaining the products are based on her own skincare struggles. She keeps it real too, letting us know Wishful won't be 'going after everybody's skin concerns', instead working on the struggles and issues she's faced. For her, this starts with 're-texturising skin' – something that apparently can be achieved very easily… enter Yo Glow Enzyme scrub!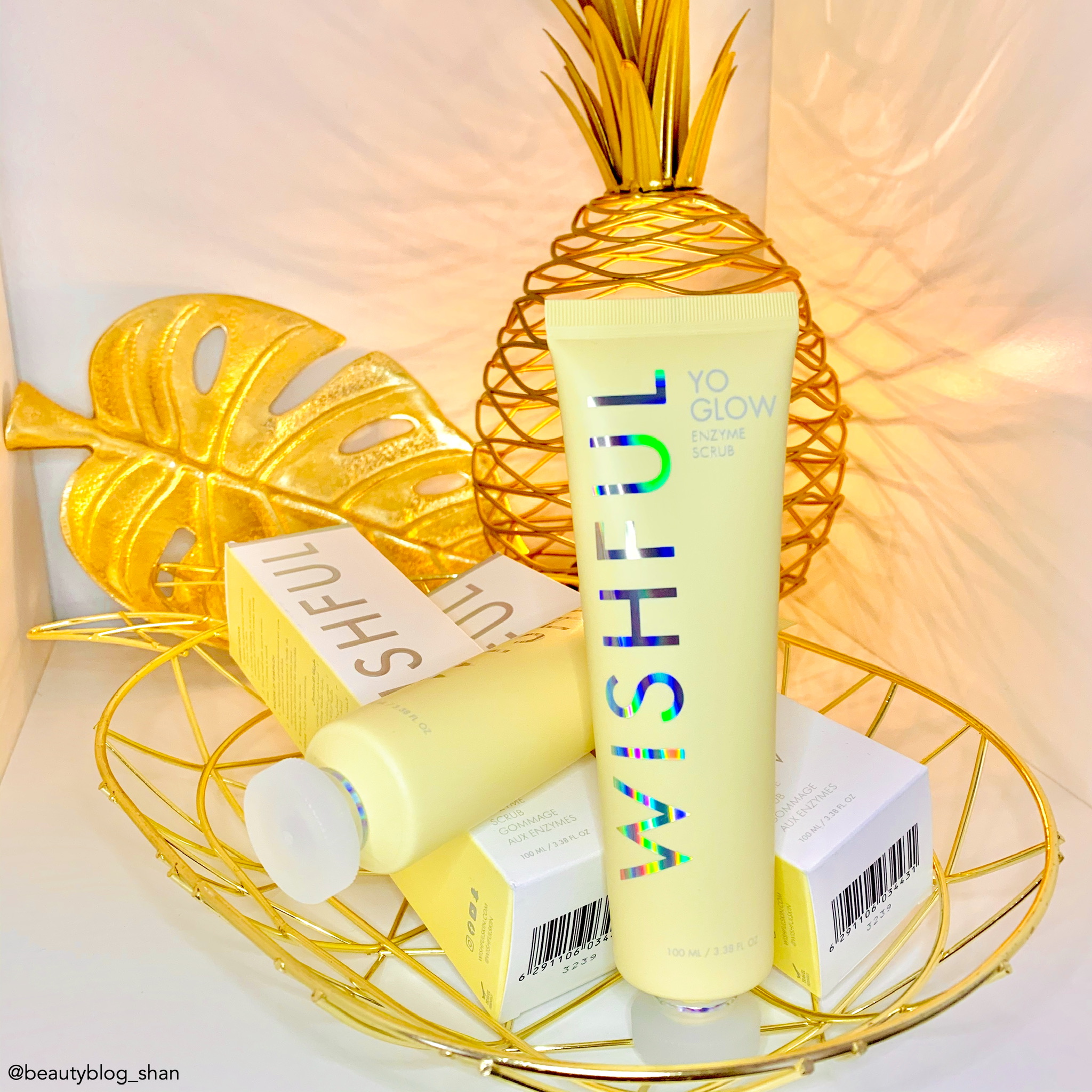 The packaging
As we've come to know, love and expect from Huda and team, I expected nothing less than aesthetically pleasing packaging, and something that would reflect the product and the brand. For me as a consumer, this is always something I tend to read a little too much into, probably way more than I should! Packaging is such a big factor in my decision on whether to purchase something. Huda discloses in her launch video she'd originally envisaged the packaging being mint green but changed to the now familiar soft yellow due to the pineapple content in the product. The design is simplistic but has a luxe feel, a soft touch matte bottle with a screw on/off cap. The Wishful logo (holographic might I add) covers the majority of the face of the product and I'm here for (hence the ten different photo shoots I had with this beauty, I couldn't stop!). One of the things I love about Huda's products are for me, they don't feel cheap. Okay, there were some comments surrounding the faux filter foundation and why was it in a plastic bottle not glass etc. but that's a topic for another discussion as it didn't bother me! This however doesn't and shouldn't have any critique, it's perfect for what we need it to do!
The product
So, Yo Glow Enzyme Scrub is a gentle exfoliating facial scrub suitable for all skin types, that will buff away your dead skin cells, refining your skin's texture, offering both instantaneous and long-lasting results. Containing a number of soothing and brightening enzymes and acids, your skin will become noticeably smoother after one use, with a more even, radiant/glowing skin tone noticeable after ten days. What's most amazing about this product is as you apply this product to your face and gently massage into your skin, you'll visibly see the dead skin melt away in front of your eyes. I'm not kidding, it's miraculous. I was gobsmacked the first time I used Yo Glow, honestly. Let's also not shy away from the fact that this product was made in South Korean labs. Korean beauty brands (such as Glow Recipe) have stormed the beauty industry recently, revolutionising skincare and beauty products and causing a lot of excitement amongst the beauty community. How much do you get for your money? Yo Glow is now available to purchase in two sizes, 40ml costing £18 and 100ml costing £34.
True beauty begins with the skin, which is why I wanted to launch my skincare line, WISHFUL, with Yo Glow Enzyme Scrub, a skin-changing exfoliator with glowing results.
HUDA KATTAN
YO GLOW ENZYME SCRUB – giving you that perfect base / blank canvas for your makeup ♥
Directions for use
Huda suggests using this every 1-2 times per week / every 2-3 days.
Important – apply to dry skin for best results, if you apply to damp/wet skin the product will not work to it's maximum potential.
Start with an amount the size of a 2 pence piece, gently squeezing this onto your hands (palm or finger tips).
DO NOT rub your hands together! If you want to spread the product over your palms before applying to your face, pat your hands gently together.
The scrub is activated by the friction of gently massaging/rubbing this into your skin. If you do this before it's on your face, it will start to remove the dead skin from your palms meaning less product and you won't get the full impact.
I personally apply a drop the size of a 1 pence piece to the tip of a finger and spot this on my forehead, apples of my cheeks, nose and chin. If 1 drop isn't enough, I'll squeeze some more product from the tube onto the tip of my finger and repeat.
Once you've spotted this onto the relevant areas of your face, you can go ahead and gently massage this into your skin, using light circular motions. You don't need to apply a lot of pressure and the product will start working instantly. You'll feel the product start to solidify – this is the top layer of your skin (the dead stuff) gently being lifted.
You can apply Yo Glow to your lips and neck too, it makes for a great lip scrub! The results from the jawline/under my chin are astounding!
PLEASE NOTE: This is just how I use it, Huda squeezed a large amount out, patted it between her fingers/hands and massaged into her face in one go, it's entirely up to you! Play around with it and find what works best for you!
Once all of the liquid product is gone and you're left with the solidified bits dotted over your face you'll need to gently rinse the product off. Huda suggests splashing water onto your face, and softly patting dry with a towel, as rubbing with a damp flannel/towel may aggravate/irritate your skin.
I've personally found using a splash of cleanser on a cotton pad followed by my facial toner works well for me but again, it's personal preference!
Most importantly, once you've rinsed your face and removed the excess product, moisturise! After using any facial scrub, you need to preserve and re-hydrate your skin.
Wishful skin have helpfully posted several informative updates on their Instagram detailing when in your skincare routine you should use Yo Glow as well as other useful tips and tricks.
Ingredients
I'm sure you'll agree with me that by now you're wondering what on earth is in this miracle product and is it good for my skin? So let's take a look.
Pineapple Enzyme (Bromelain) – fights inflammation and a superficial exfoliator that removes dead skin cells, also has antimicrobial benefits
Papaya Enzyme (Papain) – provides natural exfoliation, helps clear your skin, removing pigmentation and aids cell regeneration
AHA's & BHA's (alpha and beta-hydroxy acids) – aid depleting cellular bonds of dead cells clinging to the surface of your skin while neutralising and purifying residue congestion in your pores

AHA's – dissolve & exfoliate dead cells, stimulate collagen (perfect for brightening, evening skin tone/texture, use on normal and dry skin)
BHA's – decongests pores, antibacterial properties, reduces inflammation (perfect for acne, white/black heads, Rosacea, Milia and oily skin)

Various fruit extracts
Cellulose – evens skin texture and complexion, gently exfoliates
This product boasts only 0.2% fragrance as well as being sulfates-free (SLS & SLES), paraben and phathlates free, vegan and cruelty free.
Full ingredients list as stated on HudaBeauty.com : Water/Aqua/Eau, Cellulose, Butylene Glycol, Propylene Glycol, Alcohol, 1,2-Hexanediol, Bromelain, Ananas Sativus (Pineapple) Fruit Extract, Papain, Carica Papaya (Papaya) Fruit Extract, Citric Acid, Lactic Acid, Malic Acid, Salicylic Acid, Tartaric Acid, Glycolic Acid, Zingiber Officinale (Ginger) Root Extract, Glycerin, Rosa Centifolia (Rose) Flower Extract, Cocos Nucifera (Coconut) Fruit Extract, Prunus Amygdalus Dulcis (Sweet Almond) Oil, Salix Alba (Willow) Bark Extract, Saccharum Officinarum (Sugar Cane) Extract/Saccharum Officinarum/Extrait de Canne à Sucre, Acer Saccharum (Sugar Maple) Extract, Camellia Japonica (Camellia) Leaf Extract, Citrus Paradisi (Grapefruit) Seed Extract, Phellodendron Amurense (Cork Tree) Bark Extract, Mannitol, Psidium Guajava (Guava) Leaf Extract, Camellia Sinensis (Tea Plant) Leaf Extract, Mangifera Indica (Mango) Fruit Extract, Musa Sapientum (Banana) Fruit Extract, Passiflora Edulis (Passionfruit) Fruit Extract, Citrus Aurantium Dulcis (Orange) Fruit Extract, Citrus Limon (Lemon) Fruit Extract, Vaccinium Myrtillus (Blueberry) Fruit Extract, Magnolia Officinalis (Magnolia) Bark Extract, Sodium Hyaluronate, Ethyl Hexylglycerin, Gluconolactone, Polysorbate 20, Carbomer, Tromethamine, Propanediol, Disodium EDTA, Phenoxyethanol, Benzyl Alcohol, Fragrance/Parfum
I'm by no means a skincare expert, but in writing this review and since purchasing the product myself I've done a lot of research as well as comparing other leading skincare products ingredients lists and I've not found anything abnormal or troubling in there. If you do have pre-existing skin conditions and have any concerns about using new products on your face, speak to your GP or dermatologist first just in case.
Summary
So what did I think of the product and would I recommend to you guys? I think you already know my answer to this but here we go.
For me, Wishful is the addition to the Huda Beauty empire we all didn't know we need until now. Now it's here, I couldn't imagine being without it. Everything from the fresh social media & marketing approach to the innovative products. Huda said herself everyone thought she was crazy to launch with a scrub first but that's what she wanted to do so she did. Her warmth and positivity envelope the brand, encouraging her fans and consumers to feel comfortable in their own skin.
I love this scrub, it's unlike anything I personally have in my vast collection and the instantaneous results hooked me in the minute I tried it. I think the packaging is beautiful, something as simple as the holographic/pastel combination is the sort of thing that aesthetically pleases me. I love how the product makes my skin and makes me feel about my skin. What's more amazing is how much it's improved my makeup game! It really does contribute to giving you a better more even base to apply your base products on top of. Honestly, if you haven't tried this, get yourself a sample at least and try it. You won't be disappointed!
Reader Interactions